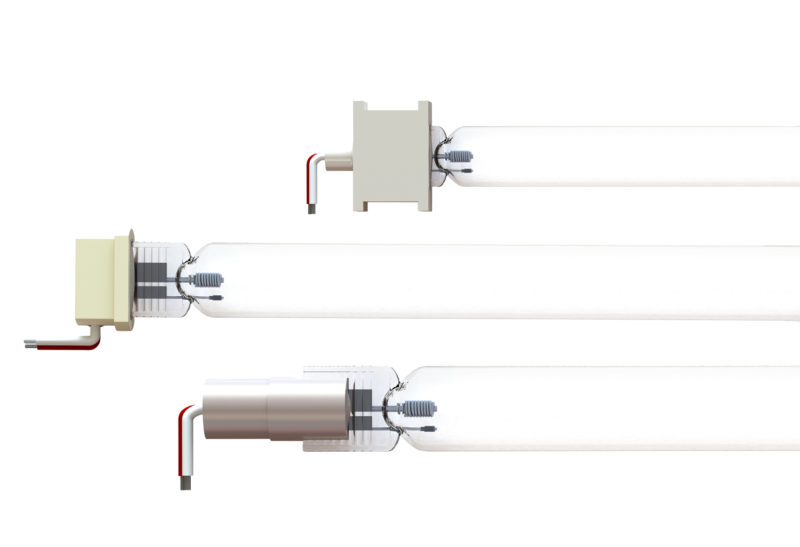 The 4.0 Lamp is a revolutionary quad electrode curing lamp with longer operating life & reduced energy consumption
Alpha-Cure is the world's leading manufacturer of medium-pressure UV curing lamps and is committed to customer satisfaction, delivering industry expertise and constant innovation. Therefore, we are delighted to unveil the 4.0 lamp. Our dedicated dual-site research and development team are constantly innovating to ensure customers who choose Alpha-Cure lamps benefit from the latest UV technology and a wide product range. Working on solutions to extend the lamp lifetime has been a top priority for the team and the launch of the 4.0 Lamp heralds a great success for Alpha-Cure, delivering a product with a longer working lifetime, cost savings and environmental benefits.
The 4.0 Lamp boasts four electrodes in place of the usual two found in mercury discharge lamps, with the second set of smaller electrodes enabling the lamp to remain lit at a considerably lower power level when it isn't in use. This helps to preserve the electrodes which are steadily degraded when repeatedly lit and prevents the 'sputtering' which can occur, both of which means the lamp will have a longer operating lifetime. To understand the 4.0 Lamp's benefits in more detail please read this blog, which gives you a short overview of how the electrodes in a UV discharge lamp work and why they impact lamp longevity.
The 4.0 Lamp required the development of the Alpha-Cure Alt-Gator Switch to direct power flow to the correct pair of electrodes at any one time, depending on whether the lamp is on standby or in use. Each pair of electrodes are electrically isolated from each other with their own connection through the lamp seal.
Looking for UV disinfection lamps and accessories?
Request a quote
Thank you, your enquiry was successfully sent.
There was a problem sending your enquiry, please try again.