Why are the right specifications important when buying a new reflector?
When you need to order a replacement reflector for your UV curing, coating or bonding system it is vital you get the specification right. Knowing the exact specification of your reflector and providing precise measurements means you will avoid errors that can result in:
Inefficient transmission of UV light
Costly return of goods
Unnecessary downtime
Depending on your system, the tolerance between good and bad performance can be in mm's.
Get the specification right the first time and you will benefit from ongoing efficient operations. That's why it's important to provide as much exact detail as possible when ordering a new reflector.
Why are reflectors important to a system?
UV Reflectors can be responsible for up to 70% of the UV output onto the substrate of a curing, bonding or coating system. So, it's important to make sure your reflectors are working at their optimum. Old, dirty, or scratched reflectors mean poor system performance as they will not reflect UV output efficiently.
Our recommendation is that customers change reflectors every 3 lamp changes or when they show any sign of material change.
What are the main specifications we need to know?
The two main types of reflectors are:
Aluminum – with or without dichroic coating
Quartz – with dichroic coating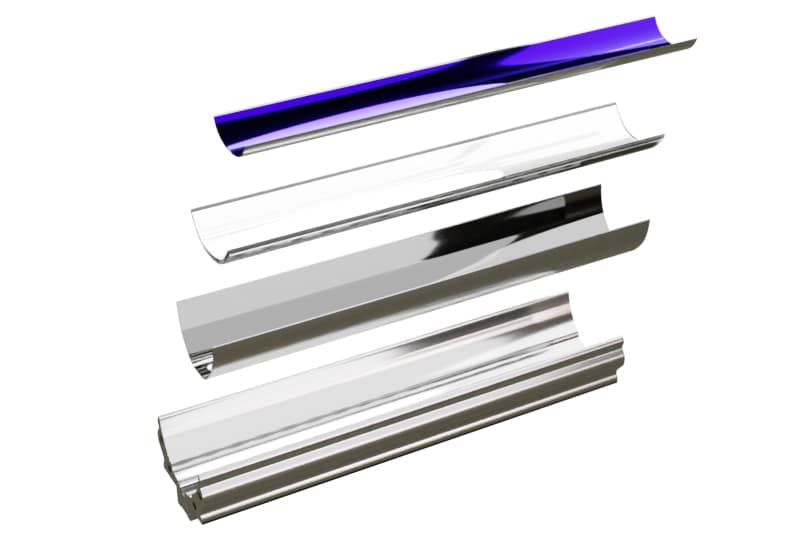 We can supply all the different types of reflectors but to do so need these specification details as a minimum to ensure the correct fit and pricing for your system. Using your existing reflector as the basis of the specification will help get the right replacement for your system.
The minimum specifications we need are (ref image):
The reflector material
Type of coating
Length (A)
Width (D)
Height (C)
Thickness,
Shape of the curve (flat, quarter moon, eyebrow, or half-moon).

If you have any questions or are struggling to find the right information, please contact our sales team who can work through the specifications with you.
Contact Us or use the downloadable forms to provide us with your requirements.
Curved Reflector Form – Download
Flat Reflector Form – Download