What is Proposition 65?
Alpha-Cure is committed to conducting its business in a socially responsible and ethical manner consistent with international, national and local laws.
Proposition 65 is a California law that applies to any products sold in California. The official name of Proposition 65 is the Safe Drinking Water and Toxic Enforcement Act of 1986. This Act requires a warning on all products sold in California containing one or more of the 900 chemicals known to the State of California to cause cancer, birth defects and reproductive harm. The list is maintained by the California Office of Environmental Health Hazard Assessment (OEHHA) and can be found here. These chemicals can be in the products Californians purchase, in their homes or workplaces, or released into the environment.
A Proposition 65 warning does not mean that a product is in violation of any product-safety standards or requirements. Proposition 65 warnings are intended to allow employees or consumers to take precautions handling the products and be aware they are exposed to potentially hazardous chemicals.
A Proposition 65 warning means that the business evaluated the exposure of harmful chemicals or has chosen to provide a warning simply based on their knowledge about the presence of a listed chemical without attempting to evaluate the exposure.
Alpha-Cure has elected to list some of the potential chemicals present in our products.  Therefore, products known to be supplied to California should be marked with Proposition 65 warning notification.
Click here for more information directly from the California Prop-65 website.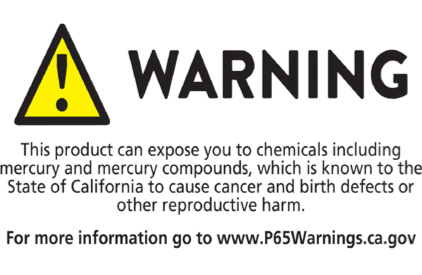 Mercury in UV lamps
When electricity enters the lamp, mercury vapours inside the lamp produce UV light. UV lamps contain very small amounts of mercury.
When the lamp is broken, the mercury fumes are released and disperse rapidly when the room is well ventilated. The mercury in the lamp fumes will have diluted enough to no longer pose any health risk. Even if there is only a small amount of mercury, it is still important to follow the proper cleaning and disposal guidelines for a broken UV lamp.
Do not use your bare hands to clean up the broken quartz (wear disposable latex gloves)
Ensure the room is ventilated thoroughly
Do not use a vacuum cleaner, as this can increase the spread of chemicals
Do not use any disposable materials, such us cardboard or paper to collect broken quartz
Dispose of all the clean-up equipment in a sealed container
Do not place the broken lamp in household or recycling bins for normal waste disposal
Check with your local government about the relevant disposal rules in your area
Alpha-Cure can supply Mercury Spill Kit's, which can be used to ensure a safe clean-up. Please contact your account manager or click here for more information.