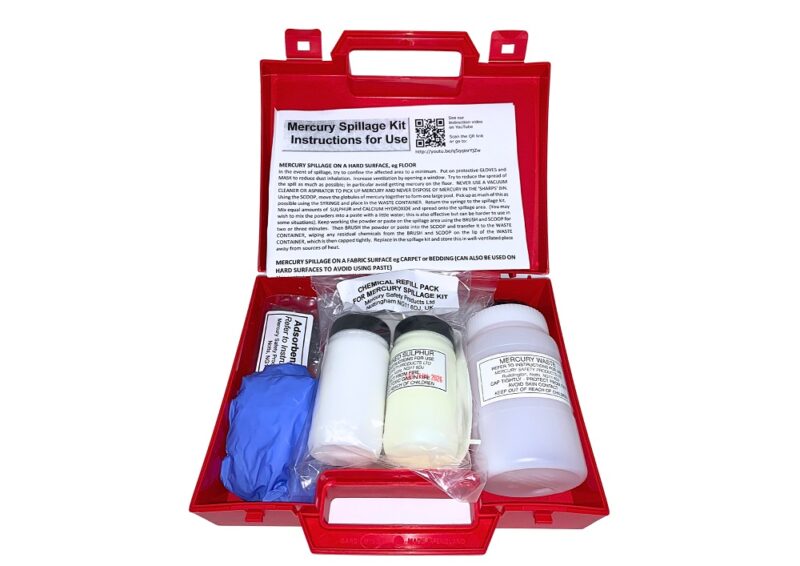 Mercury Spill Kit
Alpha-Cure's medium-pressure UV lamps typically contain a tiny amount of mercury that is required to help generate UV wavelengths.
When inert, the mercury is in the form of a small pellet contained within the airtight confines of the lamp body. If handled correctly the lamp poses no danger to humans.
However, as there is a small risk of lamp breakage which may result in the mercury being exposed to an external surface or to the air, the UK's Control of Substances Hazardous to Health (COSHH) Regulations 2002 requires employers to reduce the risks of mercury exposure to employees and others.
One way to reduce the risk is to have a Mercury Spill Kit available to help contain any spillage. The kit is designed to cope with mercury spillages on any surface.
The main features are:
Uses a COSHH-recommended system for dealing with spillages
Kit can be used to deal with up to five spillages
Decontamination procedure helps eliminate effects of 'old' spillages
Safe storage of waste mercury for disposal
Full compliance with CQC (Care Quality Commission) outcomes in UK and Health and Safety Executive inspections
Contact our sales team to find out more and order your Mercury Spill Kit.
Disposal of Used UV lamps
Alpha-Cure is proud to be a member of the UK's leading WEEE compliance scheme for the lighting industry, Recolight, which manages the safe disposal of UV lamps on our behalf.
Full details on how to return a used lamp can be found on our web page, or on the Recolight website.
Looking for UV disinfection lamps and accessories?
Request a quote
Thank you, your enquiry was successfully sent.
There was a problem sending your enquiry, please try again.