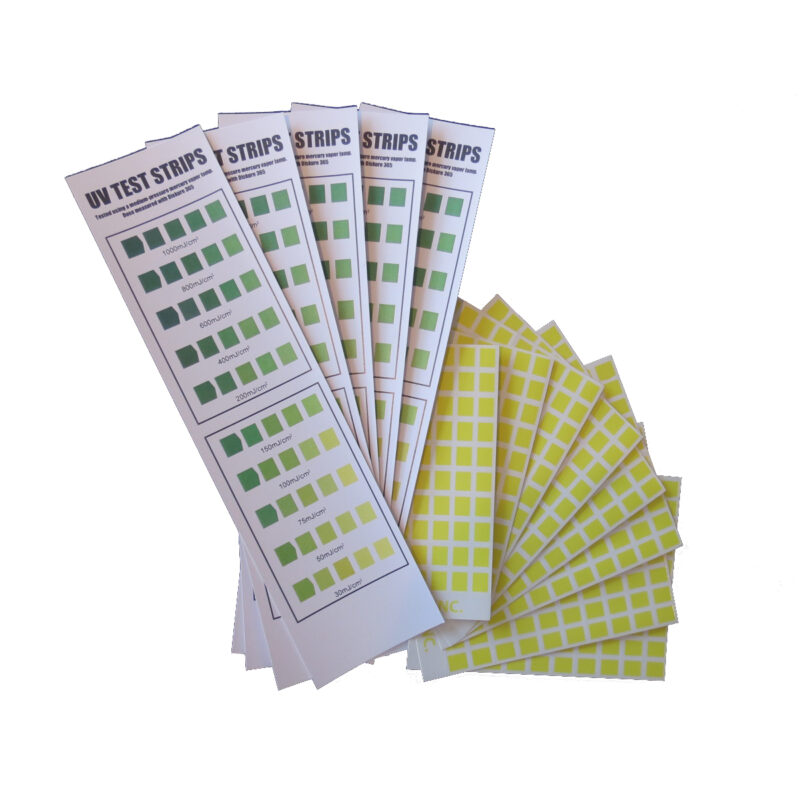 UV SYSTEM MEASURING – TEST STRIPS & LABELS
UV test strips and labels enable you to evaluate the ultraviolet output of your system and compare it against others if you are running multiple sources of UV. They are useful for systems where other measurement tools, such as probes or radiometers, are not suitable. The results can be used to detect UV lamp degradation or other system issues, and may help to prevent lengthy shutdowns of equipment.
Choose which option is most suitable for your requirements from the below or contact our sales team for more information.
UV Test Strips
UV Test Strips are used to provide a fast approximate UV output determination and come with a colour chart to check the results against after exposure to UV light
Features:
• UV test strips measure the entire UV spectrum
• The large rate of colour change provides a clear and precise UV dose determination
• Accurate visual determination of UV
• Monitor UV output in difficult-to-access areas
• Evaluate and compare multiple UV light sources
• Store product out of sunlight and avoid contact with other light sources.
How to use: To determine the levels of UV output inspect the five separate colour changing zones. Each of the 5 zones begin to change colour after a specific amount of UV has been received. The first zone will turn from yellow to green, then each subsequent colour zone starts to change colour when its specific chemistry has received the proper amount of UV to activate its colour change.
All UV Test Strips will come with a comparative chart. With this chart, each tested UV strip can be correlated to the millijoule range of UV energy that each colour pattern represents.
UV Test Labels
UV Test Labels are used to provide a precise UV output determination and are a useful tool if you need to determine a reference point for a 'good' or 'bad' cure and test against that. In addition, they are useful for testing output in small spaces or multiple UV systems, due to their smaller size.
Features:
• UV Intensity Labels measure the entire UV spectrum
• The labels will provide an accurate visual determination of UV dose made possible
• Due to their smaller size, you can monitor UV dose in difficult-to-access curing environments
• Detect UV lamp degradation and equipment failures
• Determine the dose profile in the 3D curing chambers or across wide webs to ensure even cure
• Measure the dose of sunlight in outdoor curing applications
• Evaluate and compare multiple UV light sources
How to use: Set-up your UV curing system at a speed and intensity that you know is providing accurate curing results. Remove adhesive back and stick the label onto a material that you will be passing through your UV system. The results from this will be your reference for a 'good' cure.
Continue to monitor the curing characteristics as you incrementally increase your line speed. When it is beginning to undercure, pass another UV test label through the system. This result is the reference for a 'bad' cure.
To create a 'minimum' cure label, gradually decrease the speed from the setting used to create the 'bad' cure. Pass the UV test label through your system until a noticeable colour change is observed. This will represent the point at which your UV system is still successfully curing, but it is time to perform some maintenance on the system.
Looking for UV disinfection lamps and accessories?
Request a quote
Thank you, your enquiry was successfully sent.
There was a problem sending your enquiry, please try again.