Training for the London Marathon is no easy feat, let alone actually completing it! But that's exactly what Billy Butler achieved this year. Raising donations and awareness for the British Heart Foundation, to which Alpha-Cure proudly donated, we put a few questions his way to 'jog' his memory of the event and learn more about what inspired him to train, compete and what his chosen charities mean to him.
Congratulations on completing the London Marathon! What kind of training did you undertake? And was the event as tough as you thought it would be?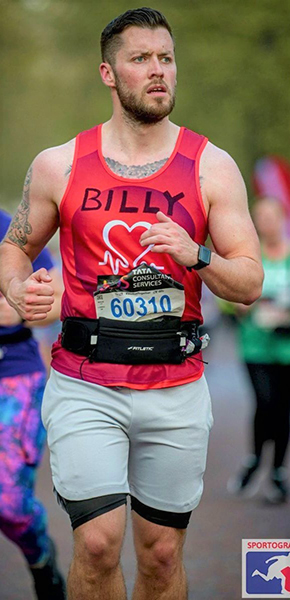 So, my training was not by any stretch the most recommended plan. Being a Personal Trainer, you'd expect me to have clear stages of training & prepare intensely. But I am not a keen runner so knew it was going to be a tough ask. When I decided to apply for a late addition slot my thoughts were more towards trying to show other people that they can do challenges like this also.
I didn't follow a strict training regime. I followed a beginner's programme and unfortunately fell ill for a few weeks and sustained an injury. Because of this, I managed to only complete around 60% of the training and the maximum distance I reached during training was a half marathon distance, on two occasions. The event was more physically exhausting than I could have imagined but my mental resilience and perseverance got me through it.
What inspired you to raise donations and awareness for the British Heart Foundation (BHF), as well as Mind, the other charity you're raising funds for by looking to complete the Three Peaks Challenge in Wales?
Having had a heart operation as a young child, I have always been interested in helping the BHF, their research essentially saved my life. This is a little way of me saying thank you and promoting their charity to keep the money coming in. My other challenge is to raise money for MIND, this is because I'm a big advocate of mental health and particularly men's mental health, I'm trying to remove the stigma for men to talk about emotions and how they're generally feeling.
What advice would you give to someone who wanted to do the London Marathon or the Three Peaks Challenge as charitable causes?
Just do it. There are training programmes out there for beginners and many people have completed these challenges with no previous experience. You're the only person preventing yourself from achieving something phenomenal. Don't allow your concerns about fitness or dodgy knees deter you from completing challenges like this. With the right support from an expert, you'll be fine.
Looking back on your experience, what would you say was the most rewarding aspect of running a marathon for charity?
When you get to see all the videos and stories of people that have been helped by the charity, it makes you feel like you've played your part in possibly saving and helping people's lives. That feeling can't be bought but earned.
As a company, Alpha-Cure is actively engaged with donating to charities via our staff who are undertaking events like this, as well as a focus on more local charities within our immediate communities in the Daventry area (England). We'd like to thank Billy for all his hard work, focus, and dedication in raising donations and awareness to the British Heart Foundation and congratulate him on such a monumental and memorable achievement.
Billy is a Personal Trainer and offers fitness and coaching programmes with a personable and bespoke approach to fitness and mental health. If you're interested to learn more about Billy and the services he offers, visit his website – Billy Butler PT.